"The pencil is my medium and I am the medium of my subject. Bound by this promise, I caress tirelessly to reveal the unique and singular soul."- Corinne Dupeyrat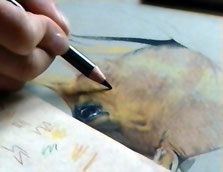 Corinne has always drawn and sketched  horses and other animals from an early age. I really like her style; some of her horses look like ghosts galloping across her her painting, while others highlight the shiny sleekness of her horses' coats. Although Corinne enjoyed drawing and other artistic mediums, she had a "brilliant" interior design career before coming back to work in pastels.
Corinne Dupeyrat
Lives in: Normandy, France
Website: http://www.corinnedupeyrat.com
Corinne  graduated from the following schools for art: School of Arts and Techniques in indoor and ephemeral architecture (1992), the School of Graphic Arts in interior design (1994), obtaining a certificate of Office Professional Qualification of Interior Architects (1997).
TFS: Any upcoming art shows/exhibits?
CD: · From June 27th to June 2nd : Wildlife Artist of the Year – Mall Galleries, London (GB).
· From May 21 st to 29 th : 38 th Art convention, Saint Germain lès Corbeil (91).
· From May 5 th to June 5 th : Circle of Parisian Artists. Paris.
· Equis Art Gallery, New–York (USA).
TFS: Where can people go to see your art?
CD: At my studio in Normandy or in the exhibits.
TFS: Can you tell us more about your style?
CD: Drawing animals make me feel closer to them. It is an intimate communication between my subject and me that allows me to make it appear on the paper.
I don't only draw an animal, I caress him, I actually feel him.
I chose the subtitle "Revealing of souls," to signal that I go over a simple portrait.
What may distinguish me from other animal portraitists, would probably be this dialogue I establish with animals. I try to reveal the beauty of each species.
Some species are endangered, and I wish to send this message: "If you don't do anything, soon there will be no more than artworks to show that they existed! ".
Life is precious, and it is important to pass this message to our children.
Some people say I'm a hyperrealistic artist. Hyperrealism is the perfect copy of reality, and I try to go beyond this idea by trying to give life to matter.
The animal, on paper, should not simply be a copy of reality; I try to capture his spirit.
TFS: Are there any artists/people that inspire you with your art, or that you admire for something?
CD: The beauty of nature inspires me everyday. I admire plenty of artists all around the world. The anglo saxons (USA, Canada, GB) are very talented and open to all techniques. I try to do my best to put myself at their level.
TFS: Any wise words for other artists?
CD: Watch, watch a lot. Scrutinize every detail and over all: draw what you see and not what you know. It means for example that we know that an animal is black, but the draw we will use red, blue or green because the reality is this. Another example: A glass is transparent, you know that, but actually you must draw all that is reflected in it and it will become realistic.
TFS: What are the ways you find most useful for promoting your art?
CD: Exhibitions in galleries or art conventions (when I'm selected!) is a good way to promote my art. Facebook and my website are very useful too.
TFS: Is there a medium that you have not worked in but would like to?
CD: Scratchboard.
TFS: Is there something that you would like to paint but haven't?
CD: I am working on the "textures": you know that it is an animal, but you do not see it in full. I find this more modern and suggestive approach.
White on black drawings.
I am also very interested in an underwater world…
And I will continue my research to try to replicate the powder of butterfly wings: a real challenge!
Do you give any workshops/classes?
Yes, every week in a village next to mine for children after school. They are very talented, I love this moment!
I also propose interactive personal courses via the internet for all level people. They choose a subject and I help them to draw from beginning to end.
Thank you Corinne, for answering my questions and sharing your art with my readers! Looking forward to seeing your future art pieces.