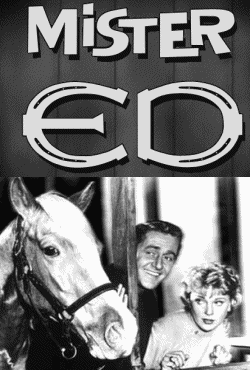 Mr. Ed
1961-1966
Genire:  American television sitcom
produced by: Filmways
Starring: Bamboo Harvester/ Mr Ed, Alan Young, Connie Hines
One of the most iconic TV stars from the 1960's was–yes, you guessed it– Mr Ed, the talking horse that stole the hearts of many Americans, even still today. The human star of the show, Alan Young, who played Wilbur Post, Mr Ed's owner, died of natural causes last week on May 19th, 2016. He was the last living member of the main cast of Mr Ed.
The adventures of Mr Ed was based on the books of a talking horse, "Mr Ed" by Walter R. Brooks, who wrote many children's books about amimals. It became a very popular show that ran for six seasons and told of the adventures and of Wilbur and Mr Ed. The book now goes for $42 USD on Amazon.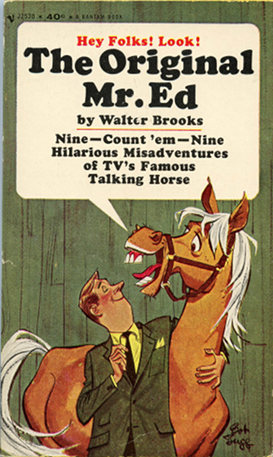 The title character "Mr Ed" was played by Bamboo Harvester, a horse, of course.  Bamboo was foaled in 1949 and was euthanized in 1968 due to health complications. He was 19 years old. There was some controversy surrounding Mr Ed's death. By 1968, Bamboo Harvester was suffering from a variety of health problems. During the year 1970, he was euthanized with no publicity, and buried at Snodgrass Farm in Oklahoma. However, according to Alan Young, he states that his beloved co-star died from an inadvertent tranquilizer administered while he was at his stable in Burbank, California where he lived with his trainer Lester Hilton. Young wrote that he'd "frequently visit his former co-star in retirement." Alan said that Hilton was out of town visiting relatives and a temporary stable hand has seen Ed rolling on the ground, struggling to get up. The theory is the stable hand thought the horse was in distress and administered a tranquilizer and for unknown reason, the horse died within hours. The remains were cremated and scattered by Hilton in the Los Angeles area at a spot known only to him.
The horse that was said to be Bamboo Harvester that died in 1979 in Oklahoma was in fact the horse that posed for the still pictures of "Mr. Ed" used by the production company for the show's press kits. After Bamboo's death in 1970, this horse was called Mr. Ed in his place. Alan Young said he he knew that the horse in Oklahoma was not Mr Ed, but did not want to "shatter their illusions" that the horse was not the real Mr Ed.
Making Ed Talk
Mr Ed was voiced by Allan Lane, who appeared in more than 125 films and TV shows in a career lasting from 1929 to 1966, mostly B western movies. He was best known for voicing Mr Ed.
As for making Ed's lips move to have the impression he was talking, Alan Young explains: "It was initially done by putting a piece of nylon thread in his mouth. But Ed actually learned to move his lips on cue when the trainer touched his hoof. In fact, he soon learned to do it when I stopped talking during a scene! Ed was very smart." This is why you never see Mr. Ed talking without his leather halter on. They would attached a invisible cord under his halter and under his front lip. Allan Lane was never credited for the voicing of Ed, it was just Mr. Ed…Himself." They wanted to keep the actor's identity a secret, so that the children watching the show would think that Ed could really talk.
One theory that was later debunked was that they used peanut butter to make Ed's lips move like he was walking. Alan Young said in later interviews that he invented the story. "Al Simon and Arthur Lubin, the producers, suggested we keep the method of making the horse appear to talk a secret because they thought kids would be disappointed if they found out the technical details of how it was done, so I made up the peanut butter story, and everyone bought it." A funny "behind the scenes story" was that when Les Hilton scolded Ed for missing a cue, the horse would move to Young for comfort, treating the actor as a mother figure. Alan Young stated in another interview that they rarely had t take multiple takes, and that Ed easily learned all kinds of tricks for the show.
Below are a few funny/interesting tidbits about the Mr. Ed show:
Bamboo Harvester'd grandsire, Harvester, was an American Saddlebred and his sire was out of an Arabian Mare. His dam was pure Arabian. He was a show and parade horse in his early years, before being bought by Filmways Productions for 15,000.
The first pilot episode (unaired) for the show had a completely different cast–even Mr. Ed was portrayed by a chestnut gelding!  The horse proved to be unruly and difficult to work with and was replaced with Bamboo Harvester. A second pilot episode was filmed and Bamboo Harvester remained with the series until its cancellation.
Mr. Ed had a stunt double, named Pumpkin. The horses were nearly identical, except for the pumpkin shape at the top of Pumpkin's Blaze, hence his name. His muzzle was also a bit darker then Ed's. He was only used twice in the series. Pumpkin went on to join the cast of Green Acres and was featured in Pudding ads.
One of the reasons they decided to have Les Hilton train Mr. Ed was because of his training with "Francis The Talking Mule", the first "talking" equine to hit the big screen.
A race horse named after Mr. Ed took part in the 1994 Grand National steeplechase at Aintree, England but did not complete the course.
The first edition of Alan Young's Book Mr. Ed and Me came out in 1994. It details Alan and Ed's time together and includes some rare photographs from the show. "If his tail tucked down behind the tailgate, it meant that he wasn't fully awake yet. But if it was outside the gate blowing in the wind, he was ready and eager. On those days, when we pulled onto the lot, he would begin stamping on the trailer floor, impatient to start acting."
There was a planned re-boot of the show in 2004. After the pilot was filmed (which you can watch here!) it was not picked up by the Fox Network. The Writer/Producer of the re-boot committed suicide not long after.
 On December 9, 2014, the complete series was released on DVD
This spectacular show brought (and still does) bring many laughs to many people, all over the world. You can pick up most of the episodes on YouTube. Thank you, Alan Young  and Bamboo Harvester and the rest of the Mr. Ed crew for bringing such a great book onto the silver screen! R.I.P Alan Young.