Since Pony Penning Day is tomorrow, July 30th , I thought I would post about Wesley Dennis. He illustrated all of my favorite Misty Of Chincoteague books! Here's what I found out about him~
Wesley Dennis 
1903-1966
Born in: Cape Cod, Massachusetts ,USA 
Wesley Dennis was born in 1903-more than 100 year's ago!  His art captures the motion and facial expression of animals so accurately that people still enjoy his work today, and will for a long time to come!  As a child, Wesley Dennis grew up on a farm in Cape Cod. He loved horses and was a natural artist. He knew that he wanted to be an artist surrounded by horses and other animals, and he carried out his purpose. Marguerite Henry said, "One Saturday afternoon he saw a newsreel in town, and that changed his whole life. Men in white breeches and helmets were whacking a ball as they rode galloping horses. It looked like fun — but the way he said 'fun' to his mother over the supper table made it a big word shot through with speed, excitement, competition".
He wanted to ride polo ponies, and left home at age 17. He got a job as a fashion artist, then did commercial art in advertising. To learn about painting horses, he found a teacher in France and left his job to go there. His teacher, Lowes Luard, taught him to draw from memory and with accuracy. He also sent Wesley to butcher shops where he studied how muscles are attached and what they are used for–on horses (since French people ate horse meat). He loved the personalities and graceful movements of live horses, and started drawing horses at racetracks. He made a set of drawings for a famous actor and singer, Bing Crosby, who bought them all.
In 1941, Wesley Dennis published his first horse story,

Flip

, (one of my first and favorite books!!)  a beginning reader about a colt who wants to jump a stream like his mother. Then he wrote Flip and the Cows.Marguerite Henry was searching for an illustrator for her book, Justin Morgan Had a Horse. She didn't like any of the samples of art the publisher supplied, so she went to the library and looked at children's books. There she found Wesley Dennis' book, Flip, and she knew he was the one. When Justin Morgan Had a Horse was published in 1945, Wesley became famous, and remained famous for the rest of his life. His illustrations were funny and true to the animal at the same time.
The same year, Wesley visited friends in Warrenton, Virginia, who convinced him to move there. He bought a 120-acre farm where he kept horses, ponies, dogs, ducks and a pet crow named Charlie. He went on a safari to Africa with the same friends.Two years later, in 1947, the next book he illustrated for Marguerite, Misty of Chincoteague, was published.In 1948, King of the Wind was published. Can you imagine researching, writing and illustrating whole books every year or two? This book won the American Library Association's Newberry Medal Honor Award. The book tells one of the best horse stories you could find.

Wesley Dennis painting with his pet crow!!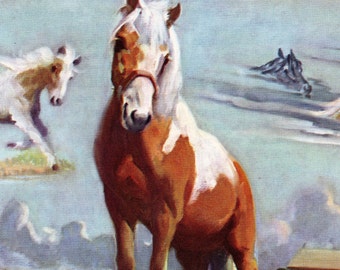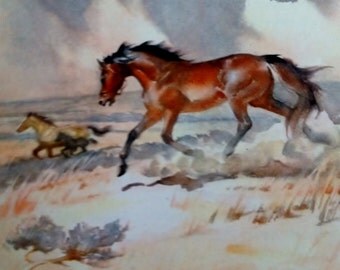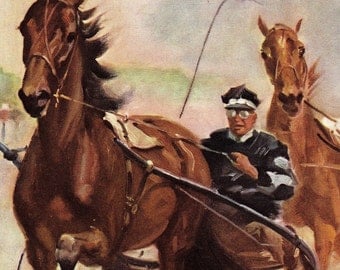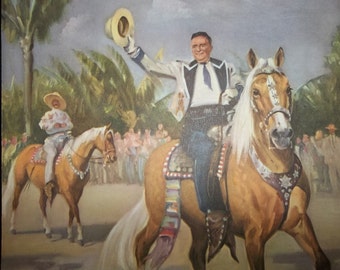 Happy Pony Penning Day and I am sure glad Wesley Dennis illustrated my favorite pony books!
See you on Friday,
Shya~
Huh? What? Well, I'll believe that when I see flying Shetlands!!
artofthehorse.wordpress.com