I grew up reading the Billy and Blaze series and want to share C.W. Anderson's  artwork with you!! He was one of the foremost horse illustrators of the 20th century ~
C. W. Anderson~
1891-1971
Born in Nebraska, USA
Highly talented artist and popular American novelist and artist, Clarence William Anderson, Better known as C. W. Anderson, was born in Nebraska, USA in 1891. After studying at the Art Institute of Chicago, Anderson first illustrated other author's works and thought of himself as an artist not a writer. However editor Doris Patee encouraged him to write text to accompany his drawings. Eventually he wrote full length novels. He also wrote many other pony stories, non fiction works, especially on racing, and some non-pony stories for children. He was also an accomplished rider, show judge and poet.
Although his stories are quite enjoyable, the standard of his writing does not come close to that of his drawings. However he does display a copious knowledge of horses and riding in his books and, like Josephine Pullein-Thompson, another equestrian author,  wasn't averse to teaching the reader through the medium of various authority figures in his novels.His work will live on, being loved for generations to come~
Here are a few of the books he has illustrated….including my a few of my favorite "Billy and Blaze" books!!!!!!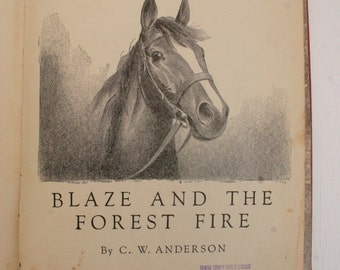 Hope you enjoyed today's exceptional artist and learned something new about  C. W. Anderson!!!
See you all Tuesday,
Shya~
Huh? What? Well, I will believe that when I see flying Shetlands !