With the Breeder's Cup this weekend, the horseracing and equine art worlds are in a frenzy. From the famous Breeder's Cup Classic trophy to art exhibits and auctions to a new Breyer Horse Collectible of American Pharoah , it is a very busy week in Lexington Kentuckey for both horses and art. Below are a few of the art events happening in the Lexington area.
                                      First, a Brief History on The Classic
The idea for The Breeder's Cup came from Leading owner and breeder, John R. Gaines during the annual Kentucky Derby Festival awards luncheon on April 23, 1982. It would be a year-end championship in Thoroughbred racing that would  attract competitors internationally. "I have personally spoken to virtually all the prominent breeders in this country and several in Europe, and to a man they have endorsed the program as a means of our industry helping itself," Gaines said at the time. It is later decided in 1983 that the first ever Breeder's Cup will be held in Hollywood Park in Inglewood, California on November 10th, 1984 with a total of 77  horses are pre-entered for the seven Breeders' Cup races. Later, in 2006, total purses for the Breeders' Cup are increased to $20 million along with three new races added in 2008.
The Breeder's Cup will be held in Santa Anita (2016) and Del Mar (2017) Del Mar will be a first time host.
Now, on with the art!
                                         A Very Special Trophy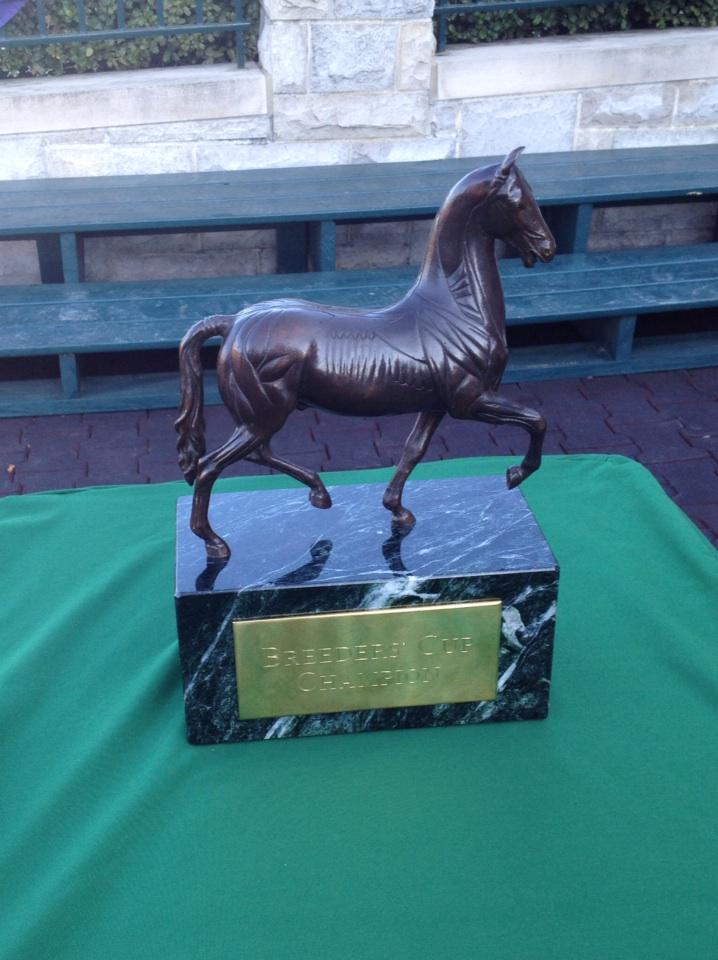 The Breeders' Cup awards the exact same trophy every year, and the original statue is brought from track to track that hosts the races. The design was created in the late 1950s and is a replica of Giovanni da Bologna's sculpture of the Torrie horse that was created in Florence by Giovanni da Bologna in the late 1580s. You can read more about this trophy here in one of the Flying Shetlands previous article.
                                     The Third Annual Sporting Art Auction
What's the best race without one of the world best equestrian art auctions? The third annual Sporting Art Auction hosted by Cross Gate Gallery and Keeneland Sales auction lots are on view now at the Keeneland Sales Pavilion, while the auction taking place Wednesday, November 18th, 2015. More information can be found at their website.  If you would like to see The Flying Shetlands article on last year's art pieces, you can here.
                     The Peb Collection In The Keeneland Library 
Since 2009, world renound cartoonist Pierre "Peb" Bellocq has been donated  of his humorous caricatures and equine cartoons to the Library. The Peb Collection includes approximately 4,000 original works of art. In January 2011, the National Endowment for the Humanities awarded the Library a Preservation Assistance Grant to assist with the preservation of the Peb Collections. To see the Flying Shetlands Article and Interview, click here.
As well as The Peb Collection, the Keeneland Library also has a collection of art and artifacts, ranging from paintings to negative photographs to two antique jockey scales, a 19th century silk purse from the Kentucky Association track, trophies and horse shoes worn by Whirlaway, Man o' War and Citation and others. For more information on both of these collection go here.
Below are two paintings in The Keeneland Library's Collection:
                    Into the Light: The Art and Inspiration of Katey Barrett
This exhibit will feature approximately 40 works thatshow Barrett's use of light, film and photographic techniques to produce her unique style of equine art. It will continue through Jan. 29, 2016. Her photographs vary from racing to showjumping,  mustangs and mares and foals.  See more of her work here.
"This is the Keeneland Library's first major art exhibition, and I am ecstatic that it showcases the pioneering and inspired work of Katey Barrett," Keeneland Library Director Becky Ryder said.
                                   Equine Sculptures At the Kentucky Horse Park
One of the most famous places for equestrian enthusiasts is the Kentucky Horse Park  in Lexington, Kentucky. With so much information, tours, exhibits events and equine art, it is definitely  the place to be! If you do go, you can't miss seeing their equine sculptures and memorials to some of the world most famous racehorses placed around the park. The above photo is of Gwen Reardon's seven racehorses and jockey's installed there. (If you would like to read The Flying Shetlands article on Gwen, you can here)
   Grace, Beauty, Spirit & Fire Exhibit By New Editions Gallery
This exhibit is hilighting the work of four female artists from September 18th to November 7th. Jaime Corum, Lesley Humphrey, Monica Pipia, and Yvonne Todd work is variety of mediums, but all have one thing in common: bring their love of horses it life through their art. Learn more on the exhibit's website.
Well, this should just add to the excitement building up at the races! Know of equine art event happening? Contact me!
Also, our national equestrian magazine, Sidelines News did an article on me and my art! Check it out here.
    Shya

Huh? What? Well, I will believe that when I see flying Shetlands !