Blue, Blue And MORE Blue Part 2~
                                                                                                            The Bleu Horses~
Artist  Jim Dolan donated these horses to the state of Montana. Wait, 39 blue steel horses to be exact!  They are located just out of Three Forks on a hill of the farm of Wheat Montana Farms, and from every perspective, they look like living and breathing real wild horses. They were installed in September  2013. This is the biggest art installation  Jim Dolan has done in all his years as being a sculptor~
 The Bleu Horses Horse Theft!
On December 13, 2013  Jim Dolan arrived at the hill where his beautiful Bleu Horses are, only to find that three were missing. A few days later , all three horses were found abandoned in a field out side of Townsend Montana. They were brought back to  Jim Dolan's studio for some small repair work that was finished in a few days and the horses have since been returned to the rest of there herd on there hillside~
Here are a few more photos of these interesting bleu  horses!~
Ok, here we go for our second blue horse statue! Next up,  The Murderous Mustang of The Denver Airport!
The Blue Mustang Of Denver
The Blue Mustang Of Denver, or  Blucifer, or The Murderous Mustang of Denver,( as the local people call him) is a 32 foot high blue mustang in a rearing position with red glowing eyes. Commissioned as public art for the airport and installed in 2008, the horse represents the wild spirit of the old American west. It has also come to represent death, destruction, and deluded debates. In addition to that,  the Blue Horse , while in construction in 2006, killed it's own artist  after a section of the 9,000-pound sculpture fell on him and severed an artery in his leg. after that , his son took over the job and had it finished in 2008.
But , before the horse was even unveiled, people did not want the horse at all.  Because some people thought that the horse was cursed for killing it's creator. This went on for years, but the horse is still at the airport and I hope it will still be there so one day I can go and see it!~
Here are a few other photos of  The Blue Mustang~
This Blue Horse was created for the year 2014 at the children's recreation campus in Sevastopol, Russia.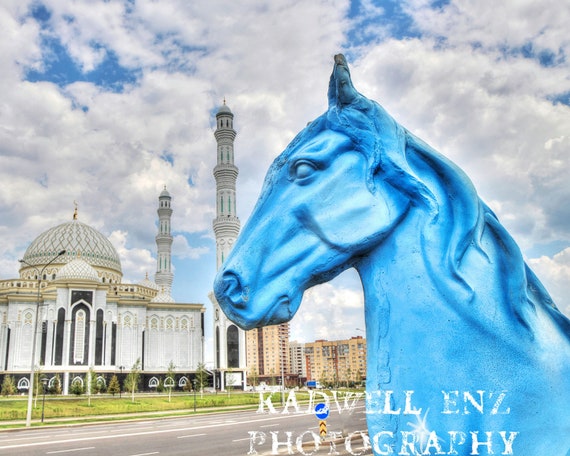 This interesting blue horse,  created by Leanne Stringer and along with 19 other horses made by different artists are being auctioned  at Spruce Meadows. This horse will benefit   CanLearn Society for People with Learning Difficulties.
Hope you all enjoyed The Blue Horses Part 1 & 2!! Come back Next week~
Shya~
Web sites :
http://auction.sprucemeadows.com/auction/product/canlearn-society/
http://www.bleuhorses.com/about.php