For today's post, we are going to to look (and get inspired!) at some cool "recycled technology" horse sculptures. Computer keys, or cellphones, anyone?!
Horse Statue Made Out of  Over 3000 Smartphones!!!
Standing at 5.7 meters tall and made of 3,500 Smartphones, Huawei Pegasus took 720 man hours to build.
The Chinese handset manufacturer Huawei  is mostly known for their low-end smartphones in the U.S. They announced the Ascend D1 Q — a quad core Android ICS Smartphone . In order to promote its high-end Android phone, Huawei created this horse statue made out of over 3000 Huawei smartphones!
Here is an interesting fast forward video about the making of the Huawei Pegasus!
Photos of the horse!! Enjoy~
Recycled Cell Phone Sculpture in 2012 at The Vodacom Durban~  
As Africa's biggest horse racing event, The Vdacom Durban , unveiled a huge three meter horse sculpture made entirely from recycled cell phones at the Greyville Racecourse!
Celebrating horse racing, glamour and a greener South Africa the sculpture was installed outside paddock at the racecourse and was exhibited for the duration of the Vodacom Durban July 2012.The sculpture, which was created by an eight man design team at Oaktree Studios took over two months to produce using more than 1500 discarded cellphones sourced from Vodacom stores. The sculpture was illuminated by solar powered lights at night. Taking a full day to install on site, the sculpture was moved to the Vodacom World in Midrand after the Vodacom Durban."The installation was inspired by that year's  theme – 'A material world' which encourages us to consider the impact of our actions have on the world. This installation served as a reminder that when you 'reduce, reuse, recycle…' the results can be powerful."
Here are the photos~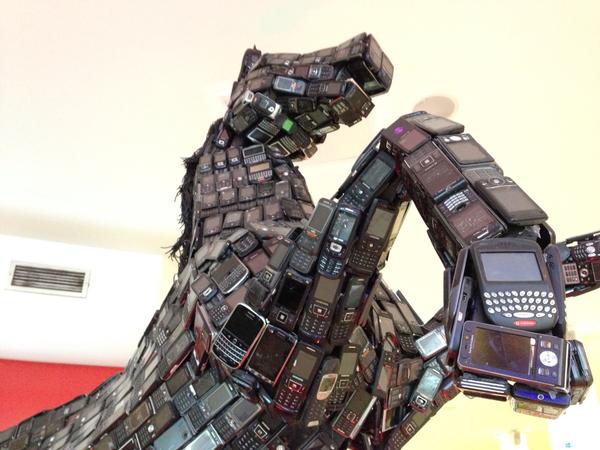 Here's one long strip!
Hedonism (y) Trojan~
This horse has been going viral online for awhile, but thought I post it anyway!
Babis Cloud made this horse out of resin, recycled computer keys, computer cables,and recycled buttons  ( atoms of communication  are the building blocks of this figure. This is a  replica of the Trojan Horse, It was exhibition at The Art House of Nuremberg and won the 2009 art award.
Photos here! Enjoy~
So, the next time you type on your keys or your phone, you would probably never think that they could be made into a  neat horse sculpture, Right?!
See you Friday,
Shya~
Huh? What? Well, I will believe that when I see flying Shetlands !