Carol Fensholt Nierenberg
Location: Carefree, Arizona, USA 
Website: http://silver-box-studios.com
The fiery steed, the angle of a sculpted back, the horse's eyes, full of power and motion. The pure strength that makes the form seemingly frozen in a second of time– ready to come crashing back down from its rearing stance, coming back to life. Those are the first thoughts that come to my mind when looking at Carol Fensholt Nierenberg's sculptures, that blur the lines between sculpture and real live equines racing the wind.
A horse lover since the beginning of Carol's life, she has had horses on her mind ever since. From reading and admiring the art in horse books, to drawing her very first horses when she was three, Carol has now dedicated her time to her own horses and her sculpture of them.
Always, I was fascinated by their expressive power –– the horse as incarnation of primal energy and passion.- Carol Fensholt Nierenberg
Carol spent 35 years in the City That Never Sleeps, AKA New York City, but she didn't leave her creative spirit behind. Instead, she became an editor, creative director, vice president and partner in several New York media organizations before starting her own company and founding the GMA Forum, a business strategy magazine for food industry executives. During this time, she won many awards for design, writing and photography. In one contest, her image won out of a record 700-plus entries in the Association of Business Publishers.
Currently, Carol is living her dream on her farm, "Silver Box Southwest", home to her and her husband, their horses and of course, Carol's art studio, where she creates this one-of-a-kind sculptures to celebrate her love of these magnificent creatures.
"But in fact," Carol explains, "the Silver Box is not a piece of land or a horse business or even a sculpture studio –– it is that special place in each of our hearts where our loves live on. Our carefree ranch is so named in hopes that family and friends will join us here often, and leave with cherished memories of their time with us, and with our animals, in a beautiful place."
Books:
Carol has also published two books about her equine art, titled "Sculptures In The Year Of The Horse" (about her current sculptures in 2015 with full color images, 78 pages) and
Carol's book "Sculptures In The Year Of The Horse"
Carol also has another book, "Swords Of The Sky" / Life Size Arabian Stallion Trypitch". You can read more about both of these books here.
Galleries: 
I had the pleasure to interview Carol on #equinearthour this past Sunday. You can see the Q&A below! Join us on #equinearthour on Twitter every Tuesday and Friday to share your art and ask our featured artists questions about their equine art.
TFS: Hello and welcome to #equinearthour, Carol! Thanks for joining us. Would you tell us a bit about yourself?
CFN: Well, I was a business publisher in NYC for 35 years, but always dreamed of being an artist. Now I am. 😉
TFS: How long have you been around horses? Did you always want a career with them?
CFN:
My parents had no interest in animals at all, but I was trying to draw horses at age three. Who knows where that comes from?
TFS: Do you/your family have an artistic background? 
CFN: My great great grandfather was Johann Strauss — musical background, but no visual artists. Art is art?
TFS: Can you tell us more about your sculptures? What are your favorite type of horses to sculpt?
CFN:  I am drawn to extreme motion & emotion — to me, what sets the horse apart from, say, a cow, is energy. So it's not so much a breed — though I do tend to sculpt my passions, the Arabian & the Iberian. They are so expressive in their bodies!
TFS: Can you tell us more about your style?
CFN: Perhaps a picture would say it …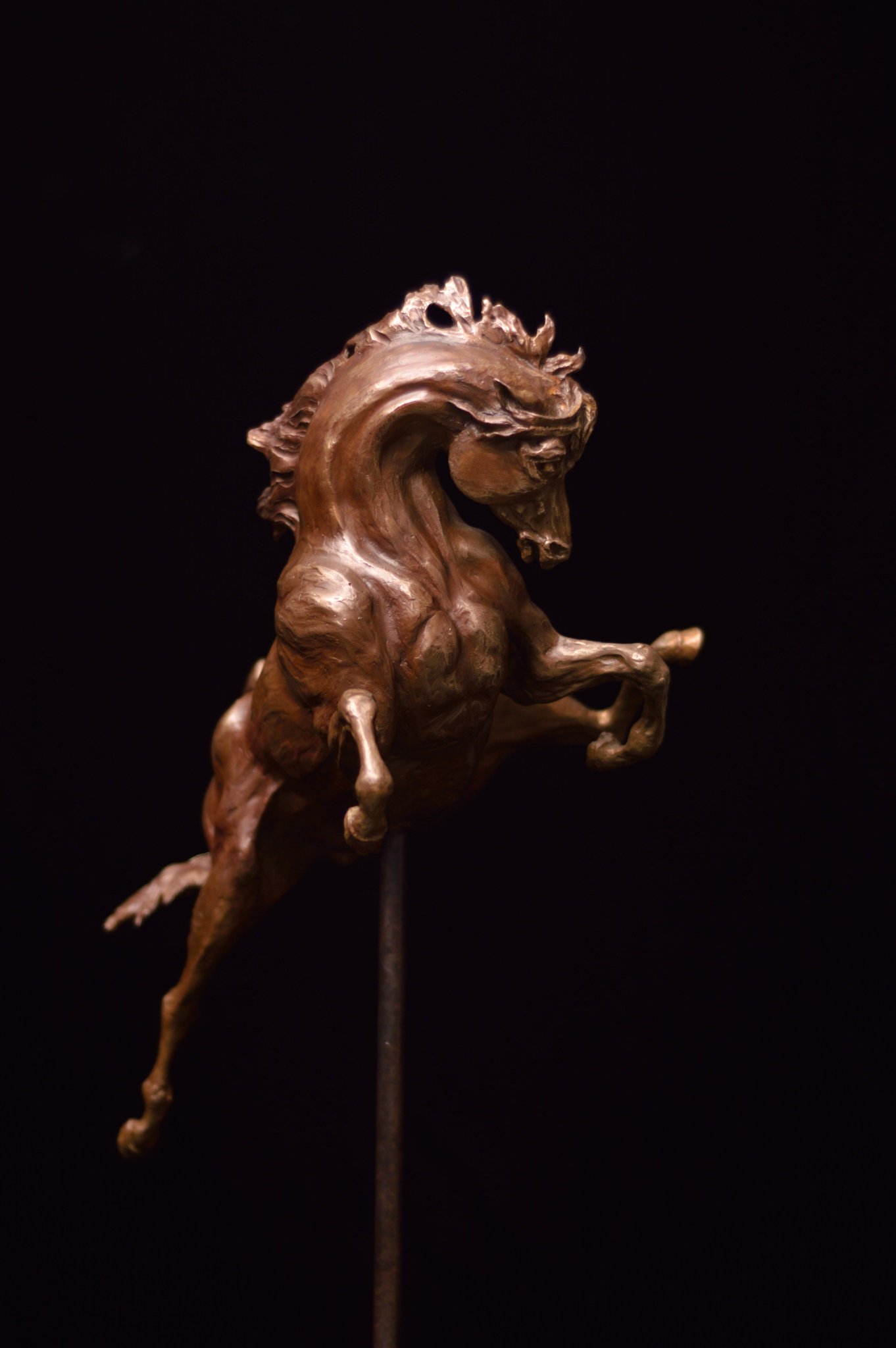 I am fascinated by the challenge of portraying the animal's passionate feelings, as expressed in action.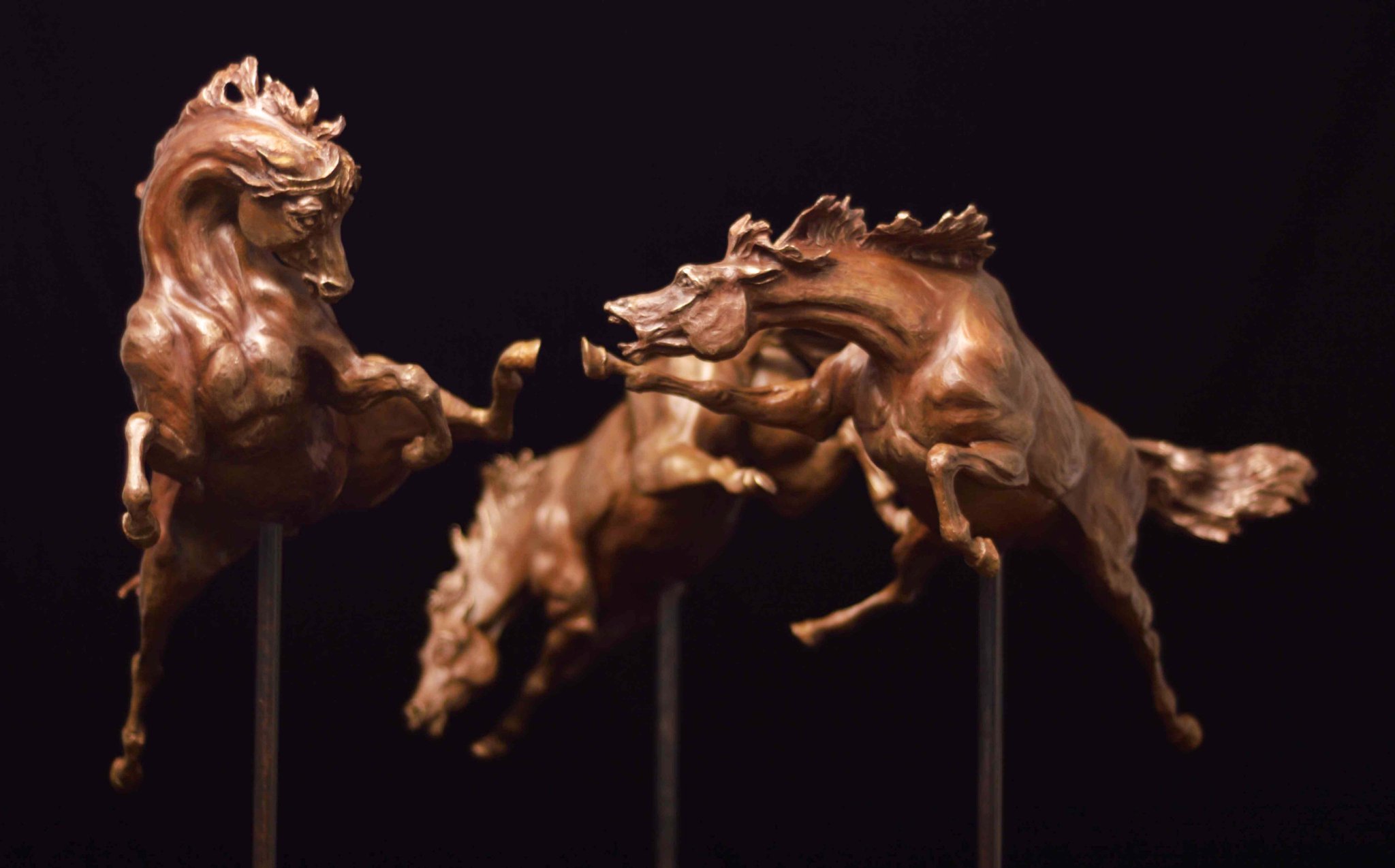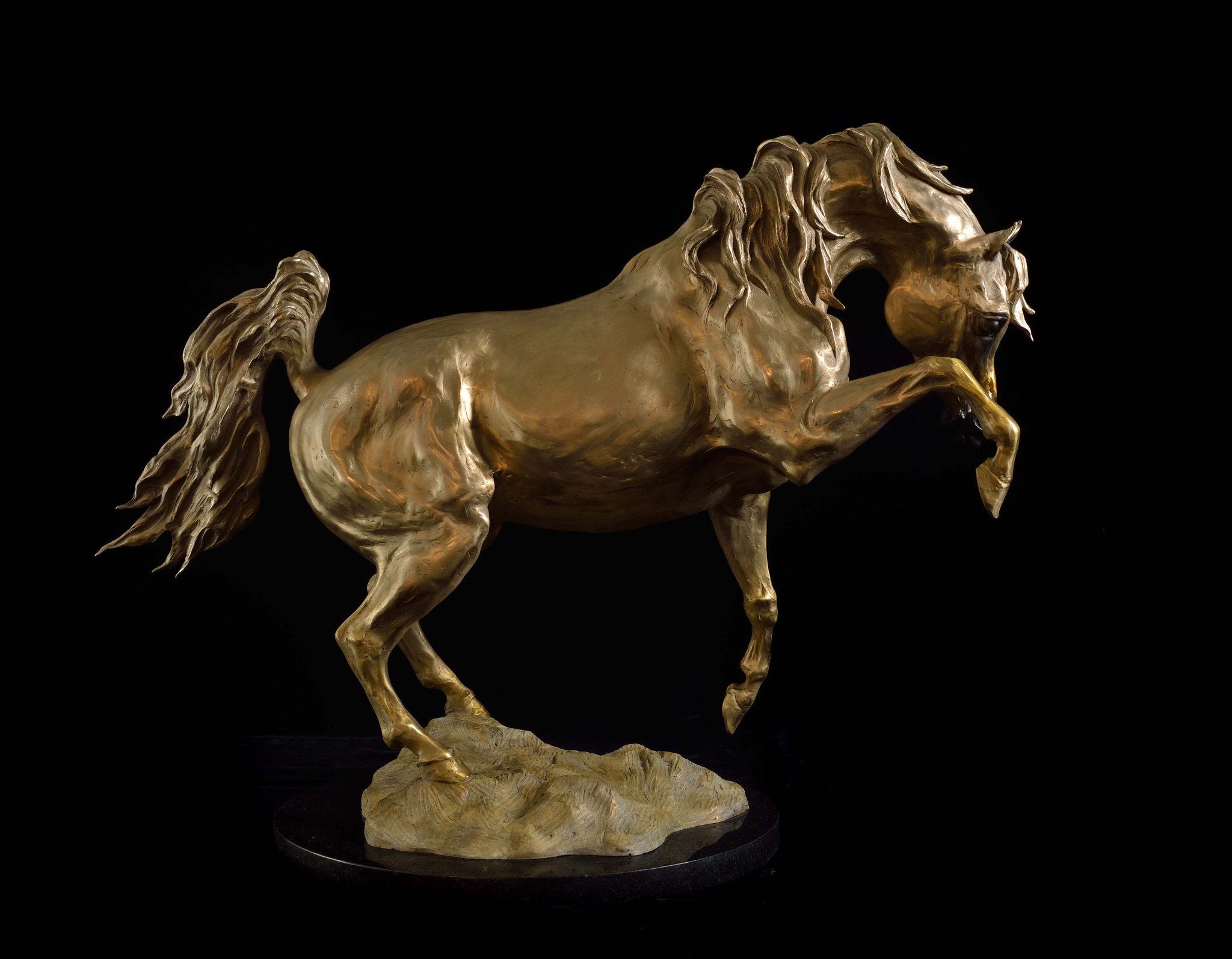 TFS: You have sculpted many Arabians in movement. Is there something that draws you to these horses?
CFN: Well, to me they are a reflection of feelings that we as humans also experience : possessiveness, anger …. joy, exuberance, resistance, arrogance, affection — you name it: If we feel it, horses do, too. I love the Arabians' fire, & the challenge of expressing these characteristics in bronze.
TFS: Do you exhibit at any shows/exhibits? Any future plans? 
CFN: I have been invited by the Society of Animal Artists to join them at the Loveland Sculpture Show soon … I will see if it makes sense for me — this is a 'fame tour", so to speak. Trying a high-end gallery in Solvangr California, USA). Yes, serendipitous! Took a class with the immediate past president of the group — she flipped for my work! 😉
TFS: Where can people go to see your art?
TFS: Are there any artists/people that inspire you with your art, or that you admire for something?
CFM: On every NYC trip, I make a pilgrimage to the Met (Metropolitan Museum Of Art, NYC, USA)  to see Barye's "Cheval Turc" & Bonheur's "Horse Fair" – WOW!
TFS: Any wise words for other artists? 
CFM: Just WORK at it. I really hate when people say to me, "Oh, you are so talented." As Michelangelo is reputed .."If people knew how hard I worked to achieve my mastery, they would not think me (talented) at all."
TFS: Is there a medium that you have not worked in but would like to?
CFN: I won painting awards in high school, & would like to get back to it. Will do at some point.
TFS: Do you give workshops/classes? 
CFN: Right now, I am focusing on making each piece better in some way than the previous:)
TFS: Do you have any works in progress?
CFN: I have probably 12.  A sculptor's best tool is his or her fanny — let the piece sit, & you sit & look at it.
Thank you, Carol, for letting me share your artwork with my readers and for chatting on #equinearthour! Keep up the outstanding work 🙂